Nova Scotia
Adventures
Hike a coastal trail and view the world's highest tides, experience the thrill of a whale watching cruise, or enjoy a quiet paddle on a heritage river system. Nova Scotia offers a wealth of outdoor activities to suit all tastes. Please select from the regions and categories below to view the adventure listings.
Mariner Cruises Whale Tours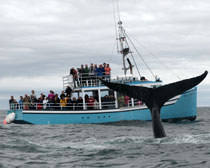 Mariner Cruises has been offering Nova Scotia whale watching and birding tours off Brier Island, in the Bay of Fundy since 1994. We invite you to join us for an exciting sea adventure from the Whale Watching Capital of Nova Scotia!
Finback whales, minke whales and harbour porpoises are the first to arrive in the spring. In June, the humpbacks begin to return; by late June they are abundant, and Atlantic white-sided dolphins are often seen.
Come explore Brier Island and the magnificent Bay of Fundy, home to inspiring marine life, rare bird species and the friendliest people you can meet.

325 Water Street
Westport, Brier Island, NS
B0V 1H0


Tel:
1-800-239-2189
Tel:
902-839-2346



Web: http://www.novascotiawhalewatching.ca