Nova Scotia
Adventures
Hike a coastal trail and view the world's highest tides, experience the thrill of a whale watching cruise, or enjoy a quiet paddle on a heritage river system. Nova Scotia offers a wealth of outdoor activities to suit all tastes. Please select from the regions and categories below to view the adventure listings.
Campground Owners Association of NS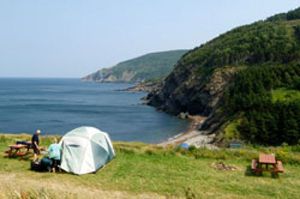 COANS is an association formed for the betterment of the camping and RV segments of the Nova Scotia Travel and Hospitality Industry. COANS is a forum for sharing new ideas and to assist in the education of our members to help provide improved service to the travelling public. Our Members work together throughout the year to find cost effective ways to improve their facilities and to promote their businesses. Working closely with Tourism NS, we seek to improve standards at all the province's campgrounds to provide leadership to this important segment of the provincial economy.
Nova Scotia, NS


Web: http://www.campingnovascotia.com/