Nova Scotia
Accommodations
Choose from world-class resorts and hotels, historic country inns, charming bed and breakfasts, or scenic campgrounds and RV parks. Nova Scotia offers a wide variety of accommodations to suit every taste, and any Nova Scotia vacation. Please select from the categories and regions below to view the accommodation listings.
Digby Pines Golf Resort & Spa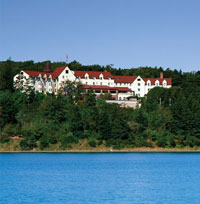 Digby Pines Golf Resort and Spa is as rare and majestic as the setting in which it resides. Beautifully situated overlooking the phenomenal Bay of Fundy, our resort offers a refreshing coastal escape for those seeking a quiet retreat to restore spirits, an invigorating setting to perfect your golf swing, a secluded getaway to rekindle romance, or an adventure destination to reconnect as a family. Join us on your next vacation to discover incredible facilities and outstanding amenities amidst a setting so beautiful and inspiring, you'll never want to leave.
103 Shore Road
Digby, NS
B0V 1A0


Tel:
1-800-667-4637
Tel:
1-902-245-2511



Web: http://www.digbypines.ca/?utm_source=Explore_NS&utm_medium=Website_listing&utm_content=Online_listings