Nova Scotia
Accommodations
Choose from world-class resorts and hotels, historic country inns, charming bed and breakfasts, or scenic campgrounds and RV parks. Nova Scotia offers a wide variety of accommodations to suit every taste, and any Nova Scotia vacation. Please select from the categories and regions below to view the accommodation listings.
Sea'scape Cottages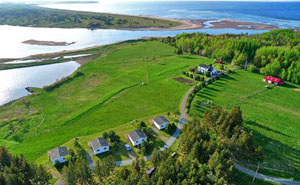 Our 160 acre coastal beach property offers our visitors two supervised beach locations, complete with beach-combing and unsurpassed bird watching opportunities. The surrounding waters are some of the warmest north of the Carolina's.
Our accommodations consist of seven 2-bedroom cottages and a 1-bedroom cabin. The cottages all provide modern, spacious and well-appointed facilities. Each cottage is equipped with full kitchen (including microwave), 3-piece bath and satellite television. Bedrooms offer queen and double beds. Austrian Pine trees afford privacy between the units, and all cottages look towards the Ocean, offering panoramic viewing.

Box 94, Heatherton
Bayfield, NS
B0H 1R0


Tel:
1-877-386-2825
Tel:
902-386-2825



Web: http://www.seascapecottages.ca




Reservations: http://www.seascapecottages.ca/reservations.cfm