Nova Scotia
Accommodations
Choose from world-class resorts and hotels, historic country inns, charming bed and breakfasts, or scenic campgrounds and RV parks. Nova Scotia offers a wide variety of accommodations to suit every taste, and any Nova Scotia vacation. Please select from the categories and regions below to view the accommodation listings.
Riverview Cottages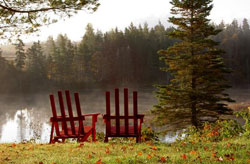 Our 18 cottages (situated on just over 12 acres in a quiet riverside setting) were built between the late 1930's and the 1950's, and maintain much of their original charm. All cabins are fully furnished with bathroom, some come equipped with a kitchenette and many have either electric heat or woodstoves.
Activities on site include lawn games, a children's play area and use of canoes. We are located 1 km East of downtown Parrsboro (overlooking the Abiteau River), Nova Scotia, Canada on the Glooscap Trail - so are close to all the town's amenities, including shops, restaurants, golf course, the Fundy Geological Museum, the Ship's Company Theatre as well as the world's highest tides and miles of beaches renowned for their rock and fossil finds.
3575 Eastern Avenue, PO Box 71
Parrsboro, NS
B0M 1S0


Tel:
1-877-254-2388
Tel:
1-902-254-2388



Web: http://www.riverviewcottages.ca/




Reservations: http://www.riverviewcottages.ca/reservations/